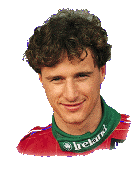 Formula One Race Career
Q = Qualifying position. R = Race position.
1993 Season - Team: Jordan Grand Prix - Car:Jordan 193 - Engine: Hart 1035 V10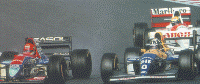 Japan: Q:8, R:6 - On a track he knows well due to his Japanese Formula 3000 experience, he qualifies high and battles with Hill and Senna to take 6th. And battles with Senna again later.

Australia: Q:10, R:r - After the high of Japan, this race is a disaster.