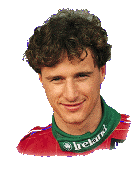 Formula One Race Career
Q = Qualifying position. R = Race position.
1994 Season - Team: Jordan Grand Prix - Car: Jordan 194 - Engine: Hart 1035 V10


Brazil: Q:16, R:a -Eddie caused a massive 4 car accident, banned for three races.

Spain: Q:13, R:6 - First points since his GP debut at Suzuka '93.

Canada: Q:7, R:a - Spun off.

France: Q:6, R:24 - Gearbox failure, after Barrichello (team-mate) had passed him.

Britain: Q:12, R:r - Engine failure on starting grid.

Germany: Q:10, R:a - Accident, caused by Hakkinen.

Hungary: Q:7, R:a - Accident on opening lap between Katayama, Irvine and Barrichello.

Belgium: Q:4, R:13 - Last, four laps behind Schumacher and Hill.

Italy: Q: 9, R:a - Took out four cars at the first chicane, then retired on lap 40 with a blown engine.

Portugal: Q:13, R:7 - Outperformed Barrichello

Europe: Q:10, R:4 - Ahead of team-mate Barrichello.

Japan: Q:6, R:5 - Again, outperformed Barrichello.

Australia: Q:6, R:a -Spun off