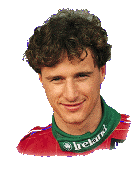 Formula One Race Career
Q = Qualifying position. R = Race position.
1995 Season - Team: Jordan Grand Prix - Car: Jordan 195 - Engine: Peugeot A10 V10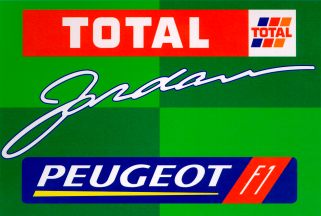 Brazil: Q:8, R:r - Running 7th, retires with gearbox O-ring failure on lap 15

Argentina: Q:4, R:r - Has coming together with Hakkinen on start, gets new nose but has to retire with oil leak on lap 9

San Marino: Q:7, R:8 - Starts on slicks, but then stops for first tire change on lap 21 at Ligier pit! Collides with Nigel Mansell on lap 43, stops for new nose. Spins on lap 55, but keeps going.

Spain: Q6, R:5 - Battles with Hakkinen most of the race, passing him on lap 47.

Monaco: Q:10, R:r - Retires with wheel rim failure, lap 22.

Canada: Q:8, R:3 - 3rd after race of attrition for the rest of the teams.

France: Q:11, R:9 - Outqualified by Barichello for the first time in 1995, finishes 7th after struggling with heavy steering.

Great Britain: Q8, R:r - Faulty sensor stops engine on lap 2.

Germany: Q:5, R:9 - Has brake problems throughout race and engine misfire in latter half. Engine dies on lap 42, but is still classified 9th

Hungary: Q:8, R:13 - Clutch fails on lap 70, but still classified 13th.

Belgium: Q:7, R:r - Stops on lap 21 for rain tyres, but fuel spillage ignites on his car and he's out of the race.

Italy: Q:11, R:r - Retires on lap 40, oil pressure problem.

Portugal: Q:9, R:10 - Two stop strategy causes a poor showing.

Europe: Q:5, R:6 - Not much to report on the race, but paddock gobsmacked by news that Eddie will drive for Ferrari in 1996.

Pacific: Q:6, R:11 - Finishes 11th, 2 laps down.

Japan: Q:7, R:4 - Hit by Barrichello and Frentzen, but keeps going.

Australia: Q:9, R,r - Manages to get up to 3rd, but air pressure problem causes him to retire on lap 62.