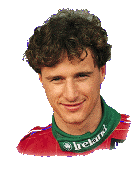 Formula One Race Career
Q = Qualifying position. R = Race position.
1996 Season - Team: Scuderia Ferrari- Car: Ferrari F310- Engine: Ferrari 046 V10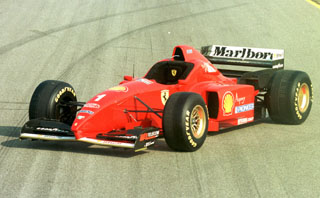 Australia: Q:3, R,3 - Outqualifies Schumacher for the first and only time, then finishes in 3rd, despite and earlier collision caused by Alesi.

Brazil: Q:10, R:7 - Has problems with poor handling and misfire, comes in 7th.

Argentina: Q:10, R:5 - Struggles with the car due to it being stuck in 5th gear.

Europe: Q:7, R:r - Car starts misfiring and Eddie is hit by Panis on his way to the pits.

San Marino: Q:6, R:4 - Has a poor start but finishes to be mobbed by the Tifosi.

Monaco: Q:7 R:7 - Causes a traffic jam, gets punted off my Panis, re-joins and spins out on the last few laps. Salo and Hakkinen run into him.

Spain: Q6, R:r - In appalling wet conditions, Schumacher wins, but Eddie spins off after one lap.

Canada: Q:5, R:r - Suspension breaks lap 2. Race over.

France: Q:22, R:r - Starts from back of grid due to technical infringement, retires with gearbox trouble.

Great Britain: Q:r, R:r - Engine fails on lap 6.

Germany: Q:8, R:r - Retires with gearbox problems.

Hungary: Q:4, R:r - Gearbox trouble again causes retirement.

Belgium: Q:9, R:r - Guess what! Gearbox trouble causes retirement.

Italy: Q:7, R:a - Hits tires at chicane and breaks suspension. Not to worry, everyone else hit them as well..

Portugal: Q:6, R:5 - Scraps with Berger (who rams him) for 5th.

Japan: Q:6, R:r - Hit by Berger again and has to retire.