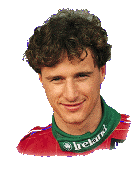 Formula One Race Career
Q = Qualifying position. R = Race position.
1997 Season - Team: Scuderia Ferrari- Car: Ferrari F310B - Engine: Ferrari 046/2 V10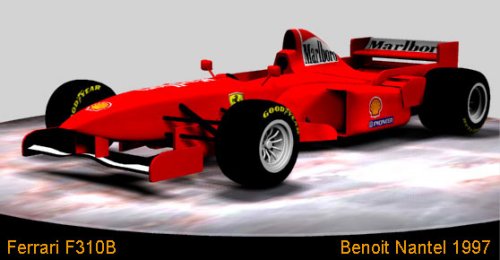 Australia: Q:5, R,a - Has a good start but Eddie, JV and Herbert collide on the first corner. End of race for all three, but start of a big argument in rasf1.

Brazil: Q:14, R:16 - Takes spare car which is set up for Schumacher. Seat belts cut into his 'bits', his sister Sonia refuses to touch them after race.

Argentina: Q:10, R:2 - Chases Villeneuve hard, but has to settle for second, but a brilliant performance to silence his critics.

San Marino: Q:9, R:3 - Has gearbox problems but nurses the car home for a podium finish.

Monaco: Q:15 R:3 - Survives being hit a few times in a race of attrition, finishes 3rd, with Schumacher 1st. Happy Birthday Ferrari.

Spain: Q6, R:12 - Bit of a disaster. Tire problems cause him to finish 12th, also given a 10 second stop/go penalty for blocking.

Canada: Q:5, R:r - Panis and Hakkinen have a coming together, which causes the McLaren's rear wing to come off, causing Eddie to spin and retire..

France: Q:5, R:4 - Drove uneventful race, apart from last corner when Villeneuve lunged at him, but span off.

Great Britain: Q:7, R:r - Eddie's 'jinx' track strikes again. Drive shaft breaks after a pit stop.

Germany: Q:10, R:a - Hit by Frentzen on 1st lap, causes puncture to rear tire. Limps back to pits. but the car is on fire so race over. Frentzen unfairly blames Eddie.

Hungary: Q:10, R:9 - Hit and spun out by Nakano on last lap..

Belgium: Q:17, R:8 - Diniz hits him on last lap. No action taken as Eddie had lost his mirror and couldn't see him coming on the inside of a corner..

Italy: Q:10, R:8 - Drives a good, solid race. However since the car isn't competitive, it doesn't do him any good.

Austria: Q:8, R:a - Outqualifies Schumacher, but makes a bad start. Tries to pass Alesi on the outside of a corner, Alesi slides into him and goes over Eddie's car. Alesi blames Eddie for the accident. Nobody else does.

Luxembourg: Q:14, R:r - Complains about the car all weekend, has a terrible qualifying and ends up 14th on the grid. Retires due to engine failure and calls his car "Brick slow" in a post-race interview.

Japan: Q:3, R:3 - After start falls 4th behind Villeneuve, Schumacher & Hakkinen. On lap 2 overtakes MH & MS on the outside of a bend, then outbrakes JV at the chicane to overtake him at the end of the 3rd lap. Opens up a 12 second lead before slowing down and letting Schumacher past on lap 24 to take the lead.

Europe: Q:7, R:5 - Has a not very exciting race, keeps 4th postion for most of the it, but is passed by Berger on the final lap after he is held up by Fissi.