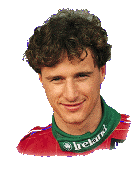 Formula One Race Career
Q = Qualifying position. R = Race position.
1998 Season - Team: Scuderia Ferrari- Car: Ferrari F300 - Engine: Ferrari 046/2 V10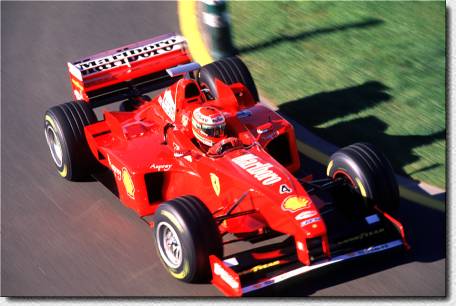 Photograph (C) 1998 Rainer W. Schlegelmilch - Click Here To See More Photographs

Australia: Q:8, R,4 - Had a good start, but got stuck between Frentzen & Fisichella. Stayed behind Frentzen for all the race after failing to get out ahead of him during a pit stop.

Brazil: Q:6, R:8 - Started ahead of Schumacher but was passed by him on lap 4. His car was lacking in straight line speed and he flat spotted a front tire which meant he could only finish 8th.

Argentina: Q:4, R:3 - Drove a good, solid race, hampered by the fact that he had to keep kicking a bolster in his cockpit back into place. Was overtaken by Wurz in the closing stages of the race, but Wurz then spun and Eddie re-took 3rd position.

San Marino: Q:4, R:3 - Has a Ferrari with X-Wings! Pulled too many revs on the grid but recovered to get on the podium.

Spain: Q6, R:r - Bit of a disaster. Had a bit of a running battle with Fisichella for a few laps and the two collided at the Elf corner. Fissi had a go at Irv out if the car but he kept his cool.

Monaco: Q:7 R:3 - Had a big crash at La Rascasse during practise & qualified 7th. Had a run in with HHF at Loews and game in 3rd after Wurz had a big crash.

Canada: Q:8, R:3 - Had a awful start after which he rejoined the race in last place because he had to come in for a pit stop because of a destroyed rear tire. Fought back to get yet another podium.

France: Q:4, R:2 - Ferrari 1 - 2! Irv keeps the McLarens at bay during the race and finishes with Hakkinen right on his gearbox.

Great Britain: Q:5, R:3 - It pisses down with rain but with a good solid drive he comes in for yet another podium.

Austria: Q:8, R:4 - Goes up to second behind Hakkinen when he has brake problems (yeah right) and has to let Sch past.

Germany: Q:6, R:8 - Outqualifies Sch but the Ferrari's lack of speed on the fast track means a disapointing race.

Hungary: Q:5, R:r - Gearbox problems caused him to retire.

Belgium: Q:5, R:r - Has a massive crash at the start, which some people say he caused by hitting David Coultard. Spins off on lap 26 in the bad weather.

Italy: Q:1, R:2 - Ferrari 1-2! - Again! - And I was there!!!!!!

Luxembourg: Q:2, R:4 - Qualifies on 1st row of grid, however the track destroys his Goodyears & he comes in 4th.

Japan: Q:4, R:2 - With no back pain for the first time in years he drove a good solid race to yet again finish on the podium.