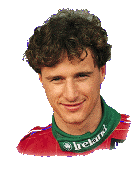 Formula One Race Career
Q = Qualifying position. R = Race position.
1999 Season - Team: Scuderia Ferrari Marlboro - Car:Ferrari F399 - Engine: Ferrari 048 V10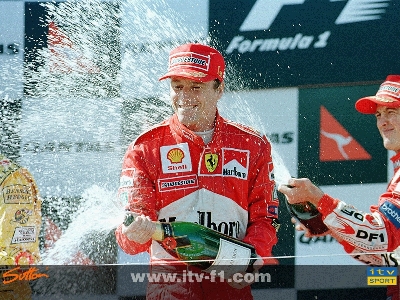 Australia: Q:6, R:1 - He won!!!! Instead of my usual short description of the race, since he won I thought I'd leave it to the professionals. So here is Julie Gates's race review, used with permission of the Ferrari Club.
This season opener was somewhat of an eventful race. If this is the sign of things to come, then my appetite is well and truly whetted. With six different constructors making the top six, both McLarens failing to finish, the re-start, Barrichello's stop/go penalty and Michael Schumacher starting last and finishing last, has made a race never to be forgotten.
Things went wrong for McLaren before the race had even begun. Mika Hakkinen started in the spare car whilst Coulthard took his car back to the pits to be worked on only minutes before the lights went out. The real sign that 'someone up there' was looking after Ferrari was when Mika drove out of his garage, still attached to the nerve centre of electronics! Came down the roof on one Ron Dennis' bonce and up went the tifosi's aspirations.
At the first start, Hakkinen, Schumacher and Takagi failed to cleanly get away. Hakkinen managed to keep his pole by not falling to the back of the grid, whilst Schumacher was left like a sitting duck. Told to go to the back of the grid, Ferrari claim it was not justified due to the fact he wasn't the last car to leave. It was in fact the Arrows of Takagi.
Herbert's Stewart-Ford started smoking on the grid and he was forced to retire. As if it was in sympathy, seconds later, Barrichello's car did exactly the same thing. Both cars were smoking in harmony, but only one could make the re-start. Barrichello ran back to the garage, and as the spare car was set up for him, it was obvious he would be the one to race. Poor old Johnny couldn't even make the start...
Come the re-start, the expected was put into reality. The Silver Arrows disappeared into the distance just as they did one year ago. Something inside me knew they wasn't going to be successful, and on lap four I predicted Irvine would win. My brother thought I was being slightly apprehensive, but now he is just as pleased as me! Irvine followed in third, albeit falling back at an almighty rate. Frentzen was putting up an impressive show in fourth. Ralf Schumacher was fifth for Williams whilst Fisichella laid in sixth.
On the other hand, Alesi retired on the first lap after stalling his car. Damon Hill, who was racing in his 100th Grand Prix, also took an early exit. As he was approaching a bend, the Prost of Jarno Trulli tried to make room for all when there wasn't simply the space. He nudged Hill out of the race and he retired there and then.
By lap eleven, Mika was still leading with DC tucked up behind. Irvine was battling in third, although was now just over fifteen seconds behind his rivals. Frentzen was keeping with Irvine, whom was being fiercely chased by Ralf Schumacher who was in fifth. Fisichella was still in sixth, being persued by the Prost of Jarno Trulli. Villeneuve was fighting hard in eighth. The Sauber of Diniz was ninth whilst Ricardo Zonta put up an amazing show and gained nine places to be up in tenth. Schumacher was in eleventh, followed by Arrows new-boy de la Rose and Rubens Barrichello whom started the race from the pitlane.
The real action began on lap fourteen. First of all Coulthard retired to the pits with hydraulic failure. This was followed by Villeneuve losing control at high speed, believed to be caused by a faulty rear wing. This saw Villeneuve spin spectacularly, but thankfully he emerged from his wreck in one piece and unscathed. This saw the safety car being brought out, and it wasn't going to be the last time it would appear.
The safety car left the circuit on lap eighteen and this is when we saw some wheel-to-wheel action. Hakkinen had some kind of problem with his throttle, and after racing alongside Irvine down the start/finish straight, he lost momentum, Irvine went by and Mika retired to the pits (only to rejoin in last position and retiring four laps later). Irvine took the lead in terrific style and would be there to stay. "Mika had a problem. I had him. Great, thank you very much. Everything worked out okay," were Eddie's comments.
Zanardi's debut didn't go too well. On lap twenty he went wide at turn four, spun and crashed into the barrier, braking his front suspension. This would be the second time the safety car made an appearance during the duration of the race.
By the time the safety car went in on lap twenty six, Schumacher had made his way up to fourth position, just behind brother Ralf. Frentzen was still second, whilst Diniz was fifth, Wurz was sixth and Zonta was seventh. This also saw Jarno Trulli and Marc Gene collide and retire.
Michael Schumacher must have been suffering from some serious flashbacks during the race. On lap twenty eight his right rear tyre (sound familiar?) punctured and his front wing was also damaged. He crawled his way back to the pits and was once again last. Shortly afterwards, Diniz retired at turn three when his Sauber suffered a gearbox gremlin. One lap later, Wurz retired with a broken right rear suspension.
On lap thirty two, Barrichello took his ten second stop/go penalty. I have to say, he made one of the most impressive drives of the day. Even though he started the race from the pitlane and had to do the penalty, he still finished an excellent fifth.
Irvine and Frentzen pitted together on lap thirty four. It was the mechanics from Maranello who were the quickest, and Irvine rejoined the race still leading. Frentzen was beaten to the first corner by Giancarlo Fisichella, who pitted only three laps later.
On lap thirty eight Irvine held a comfortable lead of five seconds over Frentzen. Ralf Schumacher was still third, but he was now followed by the new Spaniard in F1, Pedro de la Rosa, Jordan's ex test driver. Fisichella was in fifth after his pitstop and Takagi was in sixth.
Schumacher had yet another problem on his troubled F399. On lap thirty eight, he drove into the pitlane, unexpected by the mechanics, and drove straight out again. He stopped on the nest lap, only to reveal the functions on his steering wheel were not working properly. As that is the nerve centre of the car, where all functions are made from, in Schumacher's hands, it could have been a dangerous situation. He edged his way into the pitlane the second time and it looked uncertain if he would even make the allocated slot outside the Ferrari garage. After a fifteen second stop and a new set of boots, he was on his way, and he had the power to go! Now it was time we saw the real Michael Schumacher prove to the world why he is the best driver of today.
Lap forty four saw Barrichello overtake de la Rosa at turn three and Zonta overtaking Takagi. Now Barrichello had some clean air in front of him, he was able to push the car near to its limit. Badoer also retired, which left only nine cars in the standings. Still, the Ferrari test driver put up a brilliant showing for the Minardi team as he worked his way up into a points scoring situation.
By lap forty six, Irvine held a commanding ten second lead to third placed man, Ralf Schumacher. Frentzen was sandwiched in-between the two. Fisichella was fourth, followed by Barrichello and de la Rosa. Next was Zonta, Takagi and Schumacher, who proceeded to push very hard indeed, producing a fastest lap of 1MIN 32.699 on that lap.
Irvine did have one problem during the race though, and this came in the shape of a Brazilian driving a BAR. For three laps he was held up by Zonta as he was trying to lap him, whilst Frentzen was eating into his lead. After several blue flags, Irvine finally manages to succumb to the challenge. I actually find it ironic that he had the lapping problems with a Brazilian as he was fighting for victory. Afterall, in his debut, he too had problems with a certain Brazilian concerning a certain lapping incident! Only this time the tables were turned. Moments later Zonta retires with a blown engine. Now there was a mere eight runners left in the Grand Prix, last being none other than the maestro himself.
From now on the race was a straightforward sprint to the end. Eddie kept his cool and didn't put his Ferrari under any necessary pressure. Schumacher pushed like crazy and set another fastest lap in the 1MIN 31's. His younger brother put on a late spurt for the Williams team, but failed to catch and pass Frentzen.
Eddie took the chequered flag only one second ahead of Frentzen, but I have never seen such action from the car on the victory lap. He was putting up a right show for the crowd, waving, doing wheelspins, punching the air and putting on sudden surges of speed. He is clearly delighted with the victory and he is thoroughly deserving of it. "It's fantastic," he declares, "it was incredible." He continues, "we were convinced we went the right way. It's fantastic to do it with Ferrari. Thank you to everyone who helped me, they know who they are." No doubt there will be a very, very mad night ahead of partying tonight.
Even though there were mixed fortunes for the Ferrari team, they have every reason to be happy. Even though Michael failed to score any points, Irvine drove an impressive race and won. The McLarens didn't go without problems, and having scored nothing, Ferrari are not at a deficit to the Silver Arrows. Even though off the pace of the Macs, they have superb reliability and a fantastic fundamental base to work on. They may not be up to speed, but today has proven that you should never put all your eggs in basket...it just might develop a hole...
Julie Gates, julouf1@aol.com

Brazil: Q:6, R:5 - Ran in 3rd for most of the race, but had to come into pits to refill the air supply for the engine's pneumatic valves which dropped him to 5th

San Marino: Q:4, R:r - Engine blew up on lap 47. Schuy won.

Monaco: Q:4 R:2 - Ran a good race, was up Miki's arse for the first half and passed him during the pit stops.

Spain: Q2, R:4 - Out qualified Schey, but blocked him at the start. Ran about 4th for most of the race, later admittied he was very bored.

Canada: Q:3, R:3 - Had a boring race until DC crashed into him, knocking both off the track. Was then down to 9th, went a bit mental and started passing everyone until he got up to 3rd. Man of the race.

France: Q:17, R:6 - Whoops, rain meant a hard time qualifying. Came in 6th though, so not too bad.

Great Britain: Q:5, R:3 - It pisses down with rain but with a good solid drive he comes in for yet another podium.

Austria: Q:3, R:1 - Puts in a blistering mid-section to come out in front of DC, then holds him off to win the race.

Germany: Q:5, R:1 - Salo leads but let's Eddie overtake to claim his 3rd victory. Eddie gives Salo the Trophy.

Hungary: Q:2, R:3 - Has diff problems so comes in 3rd.

Belgium: Q:4, R:4 - Just potters about really, the car isn't fast enough.

Italy: Q:8, R:6 - See above.

Luxembourg: Q:9, R:7 - Massive cock-up in the Pit stop when Ferrari can't find a tire! Drops Irv a lap down and it just can't recover from it

Malaysian: Q:2, R:1 - After brilliant teamwork by Sch, Eddie wins but Ferrari is later disqualified for illegal barge-boards. This was overturned on appeal.

Japan: Q5, R:3 - Had a bad crash in qualifying and Mika stormed away during the race and nobody could catch him. Eddie lost the WC by just two points. Still, he put Northern Ireland on the map, even for a short while.