About Me And Site History

As you can see from the above photograph, I am an ex-Ferrari Formula 1 driver ;)

This website was started in the summer of 1997, built using FrontPage 97 running on a Digital AlphaStation 200 using FX!32 Intel code emulation software. Image manipulation was done using XV for OpenVMS. Using a100MHz processor and a whopping 32MB of memory.

If you came to the site wondering where all the fancy Adobe Flash, Java and Menus are, well apart from the videos and picture galleries the site is basically unchanged from when I did it, I was going to update it to a more modern look, but I thought I'd leave it as it is as a sort of example of how simple the web was back in 1997. Back then no one had broadband in the home; I was still using a 33.6K modem. That's why some of the original pictures are so bad quality; you had to really compress them to save bandwidth.

The site was originally hosted by Geocities at http://www.geocities.com/MotorCity/7864 and launched on 1st August 1997, became extremely popular around 1999 as you would have expected, but after Eddie joined Jaguar I did unfortunately neglect it a bit until those buggers at Geocities deleted it in 2002 as I hadn't logged in for a while.

So why is it back? Well it was coming up to 10 years since I launched it, so it gave me a target to aim for. But the main reason is that I met my wife through the site, even though she is a Jacques Villeneuve fan. She visited it after Schumacher rammed Villeneuve at Jerez in 1997 and unlike most Ferrari sites I said on the site that Schumacher did it on purpose, so I think she liked that. So it's something to show the Grandkids, if there is still an Internet by then..

When we got married we got a special cake made up from Jenny's Cakes with Eddie and Jacques pushing us in our Mazda MX5.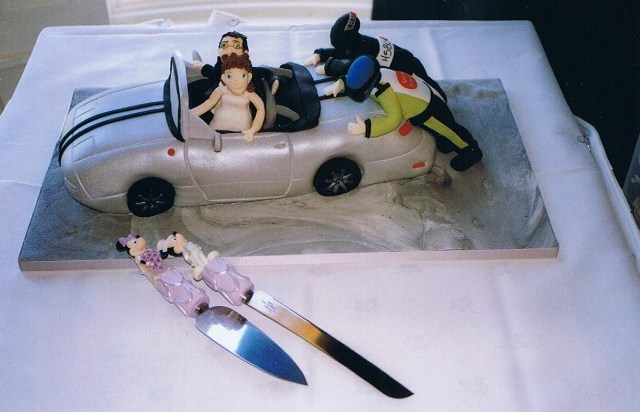 I then got involved in Motorsport myself from 2000 onwards, doing Hillclimbs/Sprints until last year when I crashed, here are a couple of my cars in action.



Never made it to F1 though ;)

If you want to find up what I'm up to these days, I have pages on Bebo & MySpace just click on the links. We also have a travelogue site at http://www.mccormackj.fsnet.co.uk

And if you want to contact me the old fashioned way by email, click here.

Links

For great free music, check out my friend's bands.


Bitchfinder Genital (banned by Belfast City Council)
Dadgad
Hundredweight

And to learn how to Just Go Faster....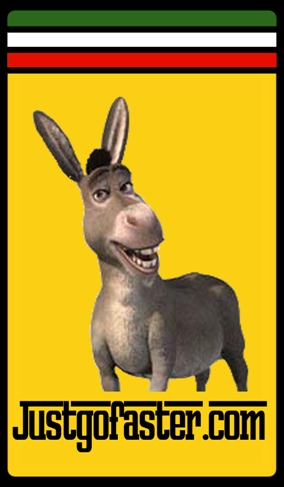 Just Go Faster

Credits

Thanks to James Richardson for getting me into Formula One again, Peter "Badboy" Lavery & Diane Lowry at the Formula One Pitstop shop in Belfast for tipping me off about Eddie's whereabouts & keeping me amused at lunchtime, Lisa B for donating the cute animated car, Mark Sheppard for the trickier image editing, Murray Walker for brightening up my Sundays, Karl Thoroddsen for the 1994 season details, Stefen Wende for the 1996/97 qualifying stats, Leigh Curran for helping me gatecrash the party Eddie was at, Lynne Henderson because she asked me for one (a credit that is), Karen Comley for letting me have a couple of pictures on the index page, Kevin Dawson of the Sunday Business Post for making me famous in Ireland and a million thanks to Kim Andrews of FOCA, who tested this site out, told me how to improve it, and without whom it would have been a load of cobblers.

Special thanks to Shiga, a friend of Eddie's in Japan, Eddie has seen this site and said ``I sat in the Hard Rock Cafe in Tokyo one night and a friend of mine was just coming from work brought his computer; we went onto the net and we were hoking through it there and had a few laughs. Some of it's true and it's very funny, it's a good laugh.''