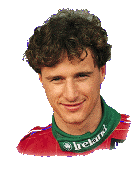 10 Sure-fire ways to Meet Eddie
1) First of all make sure you are a beautiful young woman. He seems to like them for some reason.

2) Eat at Kentucky Fried Chicken in Newry, just on the border between Northern Ireland and Ireland. When driving up to his parents house in Bangor from Dublin he always pops in there for a bite to eat.

3) Go to Dublin on a non-raceday. His favourate hangouts apparently are Lillies Bordello, POD night-clubs and the Ristorante Cavallino Ferrari restaurant. His last few Brithday parties have been held at his Cocoon bar, but I think you have to be a celeb to get in. So go on Big Brother first.

4) Hire a rowing boat and row around Bangor. If you see Eddie going past on his Jet-Ski fall overboard, fake drowning and hopefully he will come over and rescue you. Note I said fake drowning.

5) Go to Eddie Irvine Sports and invite the man to a karting session.

6) I met Eddie on 1st August 1997 at Cheryl's 18th Birthday party in the Boom Boom Room in Bangor, Northern Ireland. Find out who Cheryl is and become her best friend. Make sure you get an invite to her 30th, and chances are Eddie might be there as well. I don't know who she is I'm afraid, I gatecrashed the party.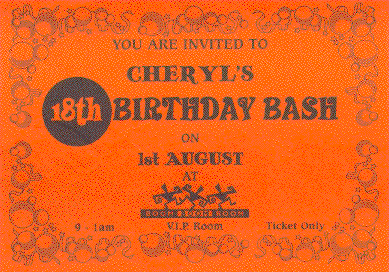 7) Get a job at Charles Hurst garages in Belfast. That's were he gets his Ferrari serviced.

8) Use L.A. Cabs in Bangor all the time. Eddie owns them, and you never know, he might moonlight some night if he's a bit short of cash.

9) Hire Eddie for the day. Trouble is he was rumoured to cost £10,000 for a PA lasting half a day.

10) Set up a business selling cheap Ferrari parts. Eddie can't resist a bargain, introduce yourself and away you go.