Eddie Irvine Article From The Sunday Business Post - January 31 1999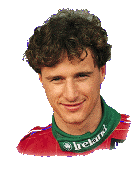 Eddie Irvine, racing driver
By Kevin Dawson
`I'm kinky and would love to buy a pair of Eddie's sweaty race underpants.'
`If you want to meet Eddie, here's how: be a female twenty-something... have a big cleavage... Wear not very many clothes.''
.
Q: ``Is Eddie single?''
A: ``He's a complete tart.''
These are extracts, only slightly abridged, from the internet site devoted to Ferrari Formula One driver Eddie Irvine -- ``Irv the Swerve''. It is no longer necessary, it seems, to have personal contact or a full-length biography in order to grasp the essence of your sporting idol. Just log on and look up. By their websites ye shall know them. The Eddie Irvine motor racing site, written by his fans, is blokey and anecdotal: Eddie and cars; Eddie and bikes; Eddie and jetskis, nightclubs, and no end of startlingly attractive women. (One thumbnail pic of Irvine with four models is titled `Eddie in Crumpet-Harvesting Mode.')
There are anecdotes of Eddie, the grand prix prankster, threatening David Coulthard with mid-race collision (he didn't); Eddie breaking off live trackside interviews to chat up passing women; Eddie grabbing Mika Hakkinen by the testicles during a a photo shoot; Eddie pouring iced water down a TV interviewer's trousers during their live interview; Eddie being refused entry to Lillie's Bordello because the bouncers refused to believe who he was (''That never happened in Lillies. That was somewhere else''). And there's Eddie the corporate diplomat, meeting the head of Ferrari for the first time and asking him about cheap spares for his beloved GTO.
Ths is lad-land, glowing with the bittersweet cocktail of warmth and sheer envy other men feel for the guy who's young, famous, rich and relishing every minute of it. Eddie Irvine, 33 years old, multi-millionaire and party animal.
At 9am on a chilly January morning, the animal magic isn't immediately apparent. We're down a somewhat grim back lane in Dublin's Rathmines, populated mostly by motor dealers and parts shops, where a top professional photographer's studio is the location for a sponsor's promotional shoot involving The Swerve.
The photographer's studio is bleak enough at this hour, though a big gas burner is struggling against the January chill. Eddie Irvine hangs about while lensman Gary Belcher and his assistant adjust lampstands, reflectors and props. There are some hanging tyres that Eddie, leather-jacketed in black, will gaze moodily through. The photographer bashes his head off a lighting pole while setting up, and yelps. Eddie gets into shot, waits, adjusts, waits and waits some more.
It's cold, dark, early and definitely not the glamour end of the Formula One trade. But the word (which none of the company or agency people present will confirm or deny) is that Irvine's sponsorship package, for internet provider Ireland On Line, is worth »100,000. Worth turning out on a cold morning for.
The Swerve himself -- a lean and relatively slight figure -- is soft spoken but sparky, bright-eyed, comfortably articulate. Snatches of interview are grabbed between lighting set-ups. It's a potentially awkward environment but he's focussed, thoughtful. There's a natural intelligence and restless energy, his upper body sometimes ducking and weaving as he makes a point.
Of the blokeish website portrayal, he says: ``It's pretty much on the mark.'' He is, as he points out, single. ``I am, eh, free to do whatever I fancy,'' he says, laughing, ``so I do!''
``I sat in the Hard Rock Cafe in Tokyo one night and a friend of mine was just coming from work brought his computer; we went onto the net and we were hoking through it there and had a few laughs. Some of it's true and it's very funny, it's a good laugh.''
Were he not so personally engaging, it would be easy to hate this man. Consider for example the things he calls his `toys'.
First there's the yacht he lives on in the Mediterranean for much of the year, when not on the road or in Dalkey. ``It's on its way from Spain to the North at the minute. From May onwards I'll live on it, until October.'' He'll be changing it in due course because it's ``getting a little bit packed at the moment. I've got motorbikes on it, jetskis, a six-metre tender -- two motorbikes on it -- they're for off-road, I just take them ashore and go up into the mountains on them. Two windsurfers, two canoes, two bicycles.'' He laughs out loud at the extravagance of it all.
Then there's the plane, an 11-seater Falcon. ``Normally I stay on the boat in Cannes or San Tropez. And I just have the plane sitting at Cannes if I'm in France or at Albenga if I'm in Italy. On a Thursday I just get up about 9 o'clock in the morning, drive over to Cannes and then fly to the circuit. I've got two pilots.''
Don't forget the helicopter, a Squirrel, which he keeps (mostly) in Dublin. And the motorbikes. ``What have I got? One, two...'' he counts ``...six.'' His favourite was an old Triumph 650. ``I take it out, up the Vico Road, back down again -- ten minutes. It's more like a work of art. I like motor bikes and I like cars and that's why I like collecting. Some people like paintings. I've got trials bikes which I ride a lot which is much more fun. On Christmas day I was out for three, four hours just riding around.''
This is no mere playboy. When he first began earning good money, in Japan in the late 1980s, Irvine spent so little that he didn't even work through the interest on the money he was putting away.
``I'm from the north, and northerners tend to be very careful with their dough. I left Japan with more money than I actually earned. That's how tight I was.'' He has invested extensively in property and in the stock market, reading extensively and playing his own hunches. Hong Kong and Shanghai Banking Corporation was a favourite stock, as was Cable and Wireless: ``I bought at 470p, near the bottom, and sold at 770p, which was near the top,'' he has said. ``I'm still very cautious. I don't spend a tenth of what I earn.''
These days, living in Dalkey like Jordan rival Damon Hill and much other new money, he tends to figure in speculation surrounding any juicy local property. Did he take any interest in last year's »5.6 million Sorrento Terrace orgy?
``One of the biggest wastes of a wonderful site that I've ever seen,'' he says. ``I was interested at one stage. I looked at it but I was very disappointed. You walk into the house and you can't see anything. You have to walk over to the window. So you may as well be in the centre of Dalkey. No privacy as well -- just sitting out on your balcony and the guy next door is sitting looking at what you're doing -- what's the point of that?
The Edge's house -- Rose Cottage -- I like it. It's mega. If I was going to buy one, that's the one I'd buy. Problem with the Edge's and Bono's is they don't get the sun. Four o'clock the sun's gone. I get the sun till quarter to eight in the middle of the summer 'cos I'm on top of the hill. Though mine's not as private as theirs.''
``I never wanted to be a racing driver,'' he says, as the photographer starts to re-arrange one lighting set-up. ``When I was a kid, my dad did it a little bit and I thought that was cool. When I was 15 at school and a jobs career officer came round, I said: `I wanna be a Formula One mechanic'. I never actually thought about being a racing driver. It just wasn't on. And I never thought about the boats and the aeroplanes and all that sort of shit.''
``I'm not complacent. It's mega to live on a boat in the Mediterranean. It's mega. But I don't wake up every morning pinching myself.'' He mimics a hoot of pain as he pinches himself hard. ``Not now. Cos I'm there, I've done it. It's no big deal to me now. Five years ago if you had asked me the question -- you know, aeroplanes, boats and all that, all your toys -- maybe I would have said so. But now? I've done it. It's just natural.''
Success has altered but not changed him, he judges. ``I've got a lot more confidence than I had before. The basic me is still the same -- but exaggerated in every dept. I'm a lot less naive. I'm very, very sceptical of everyone and everything.'' Does he need to be? ``Yeah. It's pretty much everyone's out there to screw you.''
And have they? ``People have tried. But I've been lucky: I've always been so cynical I've been one step ahead of them. Because people probably don't realise I'm as cynical as I am, or maybe as strong as I am. But there's very few people get one over on me.''
Perhaps his most surprising reflections are on racing itself. There is, he says, no special feeling for him while on the track in a grand prix proper. ``I don't get an adrenalin charge from it. It's just sitting there, relaxed but concentrating. The speed is nothing, not an issue at all, because your mind just speeds up. As far as you're concerned you're doing 40 miles an hour. There's no issue.''
It is clearly hard work, just as his time-off is hard play. He is a professional. The looming grand prix season doesn't cause him any special stress nor bring any frisson of anticipation. He thinks about racing, his performance, his technique, his prospects, every waking minute, he says. The proximity of one race, one season, doesn't change that.
``I'm a worrier. I'm always thinking about what my next step is; always every minute of every day I'm thinking about it, about what I'm gonna do. I think about it all the time. So nothing ever changes''
Has it always been so, since his teens? ``Yep. I don't talk a lot normally, because I'm always thinking. It's probably why I've got as far as I've got.''
So what of this season coming? After five seasons in F1, he is the second driver in one of the world's top two teams. Much is expected of the new Ferrari car, of Irvine and of his lead driver Michael Schumacher, regarded by some as the best driver there has ever been. ``A genius behind the steering wheel of a racing car,'' is Irvine's very specific assessment. What of Schumacher the person? There's a long pause. ``I've never really got to the bottom of it.''
What can he tell us about the 1999 Ferrari? ``It will look the same, but just be better in every department. The suspension has been modified, which should make us quicker; the thing's lighter, it's got more power, it's more aerodynamically efficient, all of which should make it faster.''
How will it compare to the new Mercedes-McLaren? ``We'll find out in March. We've made big improvements. We don't know what they've done.''
Does he still see much of his former Jordan team-mates? ``I know a couple of people on the team very well, talk to them every couple of weeks. But I wouldn't see EJ very often.'' How would he rate Jordan's chances of a top three finish? ``I hope they can. I personally wouldn't put money on it. For them to finish fourth would be a great achievement, to consolidate their position.''
``I think it's a battle between Ferrari and McLaren. I don't see anyone else. I think Williams are going to be consistently the next car, and then I think you're going to have Jordan ahead of the likes of Sauber, Stewart, BAR, and then I think you'll have a lot of teams fighting for fifth.''
His own ambition is straightforward. ``To improve on last year. I had eight, nine podiums (top three placings). That's as many as anyone had, to be honest. What I would like is to be second and first more often than second and third. I've had 15 podiums and not to have won one is strange. But if you keep getting up there it's going to happen.''
For a moment the flamboyant Irvine breaks through the calculating professional. ``Just winning a race doesn't mean fuck-all, does it? It's the way you win it. I'd like it to be hard. I'd like to have to fight for it, rather than be plodding along in fifth position and everybody falls off or breaks down -- okay, you win the race but so what? Big deal.''
Are there any particular victories he dreams about? ``I'd like to win Monaco. And I want to win Japan because I had that won a couple of years ago and I had to move over for Michael. They're the two.''
He has isolated what for many is the key question of Irvine's career: having to move over for Michael. Ferrari is the top team. But being number two driver means that -- unless he switches teams -- he will never be champion.
``It's part of the job. If I wasn't prepared to do that, I wouldn't have the job with Ferrari. And if I didn't have the job with Ferrari I wouldn't have finished on the podium eight or nine times. It doesn't take a genius to work it out.
``What do you want? Do you want to finish fifth, sixth or seventh for another team, and not have to move over for your team-mate, or do you want to be on the podium all the time? The only man in Formula One who's got the perfect job is Michael, at the end of the day.''
``I gotta make progress, which I have done every year. I'm not worried about that. I know this year's gonna be better than last year.''
The shoot's over, the lights are being dismantled. There is a media photocall at a city centre hotel later, then some business in his native North. Then the Falcon jet will swoop to take him back to the Mediterranean and into the orbit of Ferrari. Yet if it's any consolation to the website droolers, even Eddie dreams of being some other guy.
``I would say I'm getting happier. Oh yeah. The older you get, the more you understand how to have fun. I'm still very cautious. But I can't complain, can I?
``Of course you'd like to be taller, like to be better looking -- everyone's got their little wishes. But the things I want would actually affect my career. I can hardly fit in the car as it is, so if I was taller, I couldn't do the job I'm doing. If I was bigger built, same again. So, there's always give and take. And my average ain't bad. ``
If he wasn't a racing driver, he'd fancy being in a rock band. Lead singer, of course. ``Oh, yeah. I mean, you wanna be up the front, wouldn't you, giving it all the Mick Jagger stuff. And lashing all the young Brazilian models as well. That'd be nice! (laughs)''
For those still interested in the sweaty pants, the web address is (http://www.geocities.com/MotorCity/7864/index.html) The racing, meanwhile starts in Melbourne on March 7
Story (C) Sunday Business Post, posted on the site with permission from Kevin Dawson