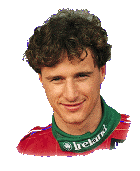 Eddie Irvine Screensaver For Microsoft Windows
This screensaver displays pictures of Eddie being his cool and suave self and some racing images as well.
It is designed to run on a 800 x 600 Hi Colour Display cos that's what I had back in 1997. It will run on a 640 x 480 display but Eddie's head gets cut off in one of the pictures. One may argue that's a good thing :)

- Click on the button to download the screensaver - You may need PKZIP or WINZIP to unzip it.
I have found more Eddie Screensavers at Mininova, click here to download them.
Credits
Thanks to the following people for giving permission to use their images.
Richard Knight, Webmaster of the Shell-Ferrari Site. All images in the screensaver with the Shell-Ferrari logo are copyright Shell International Petroleum Co Ltd.
Isobel Hamilton, webmistress (is that a word) of the Girls F1 Page.
Raffaella Pelizzar, webmistress (it is now) of the Nice Eddie Page.
Boris Schlegelmilch - Maranello - The Ferrari Channel.
Alex Savage & Matt Hobbs for hosting the screensaver on their sites too.
Screensaver Written With Webshots Software