Jonathan's Awfully Big Adventure At Mondello Or
Rob Gray - My Part In His Downfall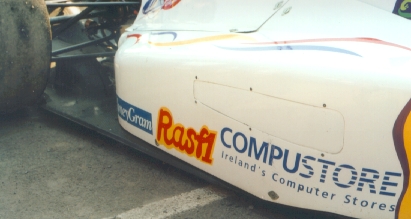 The Story Of My Day As A Guest Of Sarah Kavanagh
Sunday morning started bright on the outside. Inside was yours truly with a bugger of a hangover. Things got worse when I released that I'd ran out of milk and that I hadn't a clue how to work the expensive camera I had borrowed off my cousin the night before. When I had got it I was a bit drunk so when he explained how to work it had gone in one ear and out the other. Oh well. Once I had a shower I was a bit more alert and I climbed into my car ready for the 2-hour drive to Mondello from Lisburn.
Since it was a long journey I decided to check my tire pressures. Basically they were all different, ranging between 10 and 34 psi. That explained my car s erratic handling of late. Not having a clue of what pressures to use I took the example of Johnny Ball and just thought of a number. I went for 30psi.
I realized this was a mistake about an hour later when I hit a bump and the car took off. And my spine decided to hit my brain every now and again. Still, now I know how F1 drivers feel about Argentina I guess.
I arrived at Mondello at about 12:30 during qualifying for the Formula BOSS race. Unfortunately Mike Magan's E-mail hadn t arrived in time so I was the only one who didn t know that Sarah wasn't driving the Jordan, but her F3000 Reynard. So in actual fact she had passed me about 4 times before I recognized her car by the rasf1 sticker on the side. I then went to find her pit garage. Asking an official I was told "Sarah Kavanagh, it s a big white van over there" I went over there and found about 10 big white vans.
I was getting desperate by then; I didn't know anybody else there. Fortunately I then saw Sarah's car pull into the pits. Sarah got out and started talking to a few people. Now I had never met Sarah & I was a bit guilty about disturbing her after a session when she was hot, sweaty and could do with a rest, but I was scared I'd end up wandering around Mondello by myself for the rest of the day. So I went up to her and introduced myself as a RASF1 person. Now even though she had been told only a few seconds before to report for drivers debriefing, she smiled, shook my hand and personally took me to her garage. That's the impression that will always stick in my mind about Sarah, how genuinely warm and friendly she is.
Once in the garage my cunning plan of wearing a FOCA T-shirt (only £19.95, one size fits all) worked when Kimbo came up to me and said "I recognize that T-shirt, I made that T-shirt" To which I replied "Who are you then?" Yes, that was possibly the stupidest thing I have ever said. So I met the famous Kimbo and Tracy Roketta from rasf1. Yippie! Tom, Michael and others were still missing, presumed hungover though.
Once Kimbo had blagged her Press pack we went to hospitality were we met Tom & Michael. We sat there eating lunch and generally getting a suntan until it was time for Sarah's race.
Sarah had qualified 5th but started in 2nd due to 2 cars breaking down on the grid before the warm up lap and another having to start in the pit-lane. And they were off. Sarah kept 2nd place for a few laps until the superior HP of Nigel Greensall's Tyrrell Judd behind her managed to overtake her on the pit straight. That left Sarah sandwiched between Tyrrells, the one behind her being driven by Rob Gray. She kept Rob (otherwise known as cheating git who overtook under yellow flags or cgwouyf for short). On lap 11 a Lola indycar spun out on turn 1 and yellow flags were flown. This allowed cgwouyf to catch Sarah up. On lap 12 when they came around again he was in front of her. Which did seem odd because he didn't seem any quicker than her before. A few laps later we heard over the P.A. that cgwouyf was being called in for a 10 second stop/go penalty for overtaking Sarah under yellow flags at turn 7. So everybody in the rasf1 posse started grinning again.
Sarah finished overall 3rd, but 1st in her class, almost a lap ahead of the other F3000 cars. We then went to see Sarah down at her garage were we met Jeff & Toni, some other rasf1ers who had watched the race from the outside of the paddock. It was now time to say our good-byes, apart from Tom Cosgrave who rather stupidly agreed to go home in my car. On the way back to Dublin I thought Tom was being very friendly by pointing out the difference between Northern Irish & Eire road signs to me, but it seems it was more because he was afraid because I was heading for twisty roads at 70mph. He survived in one piece though.
So what are my overall impressions of the day? Well it was hard to decide based on one race about Sarah's driving ability, but from what I could see from my position she always took the bend more cleanly and slightly faster than the other F3000 drivers. She didn t seem to make any mistakes there either. Also the facts that she kept superior equipment at bay and finished a lap ahead of an identical car says a lot for her driving abilities, so I have no hesitation falling into the "Sarah is a good driver camp". As for her organization, it was definitely the most professional outfit there from a hospitality point of view. You also get the feeling that the people there really cared about Sarah and weren't just there because they were getting paid for it. You couldn't meet a more enthusiastic and friendly bunch of people. And the same could be said for my fellow rasf1ers.
So I really hope she makes it to F1, she defiantly deserves to and I feel if she did she would be a major contender and not there to make up the numbers. If you want to help her do that, make a donation at the site below.
Thanks To
Mike & Sarah again for the wonderful time I had, Kimbo for fixing my camera and letting me have a rasf1 T-shirt on tick & all the rest of the rasf1 mob for making my day complete.
The views expressed here are mine alone and do not reflect those of Sarah Kavanagh Sports. All photographs are copyright me, but anybody can copy them if they want.
Click here to see photographs of the day.