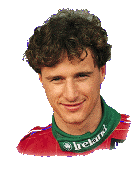 About Eddie
Name: Edmund Irvine.
Date Of Birth: 10 November 1965.
Place Of Birth: Newtownards, Northern Ireland.
Residence: In 1999, Dalkey in Ireland, Bologna in Italy, a boat kicking around the Med. Then lived for a while in Miami and sold the house in Dalkey, apparently he spends most of his time in America at the moment.
Marital Status: Single.
Toys: In 1999 he had a Ferrari 288GTO (reg B1 GTO), Ferrari F355 (reg RXI 355), Ferrari Daytona, Yamaha Jet Ski, about 6 motorbikes, a yacht called the Anaconda, Helicopter (reg EI-IRV), Falcon Private Jet. These days I know for sure he has a Ferrari 575 but not sure what else.
Also Known As: Fast Eddie, Steady Eddie (before F1), Irv The Swerve (after F1), that Irish twit, The Irvinator (seems to have started in rasf1 after Australia 1997), The Fuhrer's Puppet, Muttley as in Dastardly & Muttley, and last but by no means least he has been described as " absolutely brilliant - in one of those dumb studly ways" by Tracy Roketta.

Career Summary: Eddie started racing after leaving school using an old Crossie 50F. He raced Formula Ford from 1983 to 1988 using a variety of chassis and had won two Championships by the end of 1987. He later sold his 1987 Formula Ford car to Sarah Kavanagh. In 1988 he drove in the British Formula 3 championship. In 1989 he was team mate to JJ Lehto in the Pacific F3000 team and finished 9th overall in that year. 1990 found him driving for the Jordan F3000 team with Heinz-Harald Frentzen and Emanuele Naspetti and he won his 1st race at Hockinheim that year, finishing 3rd overall in the series. For the next three years he drove in Japan in the F3000 series and almost won the title in 1993. In between he drove at Le Mans for Toyota and still holds the lap record for the track. At the end of 1993 he started driving for Jordan in Formula One, moving to Ferrari in 1996 to partner Michael Schumacher where he became an excellent number 2. Won his first race in Australia 1999 and nearly the World Championship. After helping to secure the 1999 Constructors Championship for Ferrari, he left to join Jaguar for a 3 year contract.